Faithful & Fly
Spring and Fall are my favorite times of the year!! I love Spring because everything is new, and Fall signifies change. Living in Detroit, I get to experience all four seasons. I love being able to change my wardrobe for each season and stay up to date with the latest fashion trends. However, as a Christian woman, I sometimes find myself getting dressed and either feeling too "churchy" or too "clubby". Now when I say "clubby" I don't mean raunchy. I look like I may be going out on a date with my husband or with my friends for a GNO. So for all of you that may find yourself in the same dilemma as me, I have found some ways to be both Faithful & Fly at the same time! WINTER WHITES
Whoever said that you can't wear white after Labor Day made a fashion faux pas! White is a color that can be worn year round and I especially love wearing it in the fall and winter. You can take a pair of white jeans and pair it with an oversized white coat. You can also add layers and mix different fabrics, textures, and prints.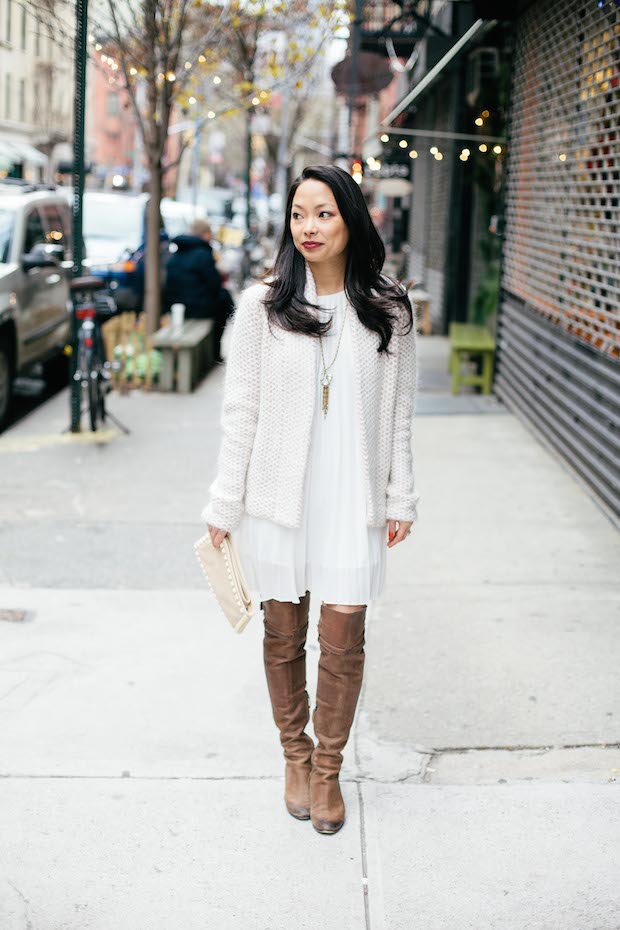 TURTLENECKS
Ok, so I absolutely am in love with turtlenecks!!! Turtlenecks are a church girls best friend. Turtlenecks are usually fitted and when you pair it with a long pencil skirt you can show your curves without being sexy, or as I like to say "clubby" lol. When I wear turtlenecks I feel like a risk taker. This fall I dare you to pair a bright turtleneck with a bright skirt.
. 
SWEATER DRESSES
These are my fave!!! I love wearing these to church because I can go from church girl to brunch date with the hubby instantly! Just change my nude lip to red and va-va-voom. FYI... Sweater dresses can be tricky. My advice is to always try on the sweater dress before you buy it. The fit is very important when it comes to these dresses. You don't want them fitting too tight or too loose. Remember to accessorize with a chunky necklace, a scarf or jacket to add personality. And here's a cool tip: You can always by an oversized sweater, pair it with some really thick tights and OTN boots and voila you have a sweater that you turned into a dress.
FAUX FUR
I absolutely adore the look of a fur coat. I don't own one for a few reasons: 1) I can't bring myself to wear one (I love animals) and 2) I can't bring myself to pay for one. So I have found the next best thing. Drum roll please.... FAUX FUR!!!! Faux fur is inexpensive and very versatile. When you add them to your OOTD it brings a glam feel to your ensemble.
CAMEL IS THE NEW GRAY
Gray will never ever ever go out of style. Keep your gray in your closet and be ready to wear them this fall. However, Camel is making headlines too this fall. Camel is such a classic color. This fall I plan on pairing my camel colors with bold and funky patterns. I also recommend purchasing a camel colored cape. Capes are such statement pieces and you can wear them with just about anything.